U169 Series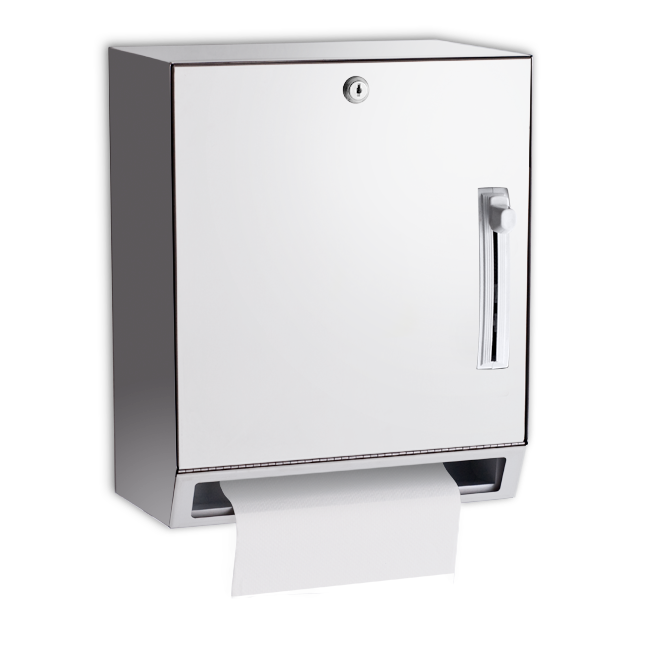 Product Features
Fabricated of #22 gauge stainless steel with a #4 satin finish
Holds one standard size roll up to 8" in diameter
Secured with pin tumbler lock, keyed like all AJW cabinets
Product Specs
Cabinet Body: Fabricated of #22 ga stainless steel with #4 satin finish.
Cabinet Door: Fabricated of #18 ga stainless steel, #4 satin finish. Lever opening has been deburred to prevent injury and allow a smooth lever operation.
Back: #22 ga stainless steel, with key holes slots for mounting.
Roll Towel Mechanism: Operable with one hand and less than 5 lbs of force without any turning of wrist or tight grasping. Adjustments can be made to dispense three pre-set amount of paper to be dispensed per stroke. Unit is equipped with an automatic stub roll transfer.
Lock: Pin tumbler, commercial quality lock, keyed like all other AJW cabinets.
Hinge: Full length, heavy duty, stainless steel
Overall Size: 12 1/4"W x 16"H x 10 1/2"D
311mm x 406mm x 267mm
Capacity: One standard size roll of 8" or 9" wide. (Use only non-perforated towels). One stub roll up to 2 3/4" OD
*Recommended 600ft roll for best results.
Installation Instruction
Provide an area on mounting surface at desired or specified location. Coordinate installation with architect / contractor. Open cabinet door, place unit against wall making sure unit is level and transfer mounting points. Top of cabinet should be no highe