U199 Series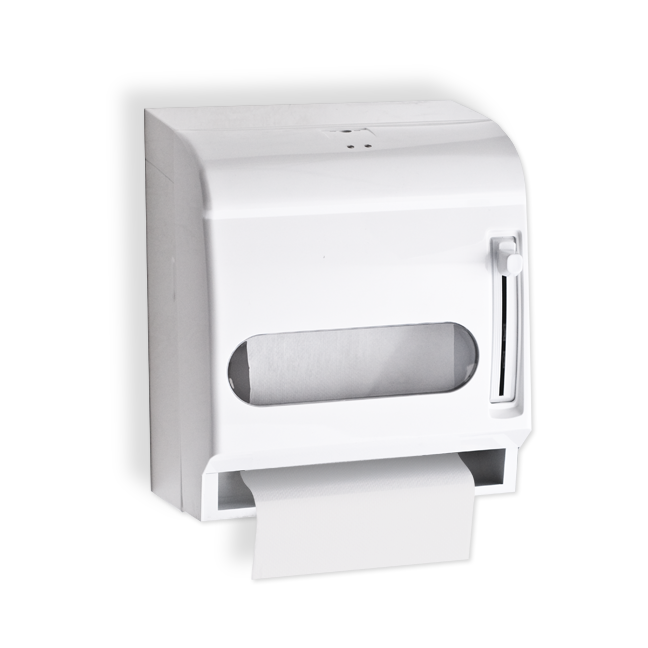 Product Features
Holds one standard size roll up to 8" in diameter
Lever-operation complies with ADA code
Secured with pin tumbler lock, keyed like all AJW cabinets
Easily operated with one hand
Product Specs
Cabinet Body: #20 ga baked white enamel steel, formed for rigidity with multiple mounting points located on back.
Door: High impact white plastic with a full width viewer for towel capacity indicator. Cabinet door is secured with special key.
Mechanism: Internal mechanism is fabricated of high impact plastic and #20 ga steel. Cabinet has the capacity for one stub roll. Lever is operational with one hand without any tight grasping or turning of wrist and require less than 5 lbs of force to operate. A removable pin allows mechanism an option adjustable setting that provides three pre-determined towel lengths to be dispensed.
Overall Size: 12"W x 15"H x 10 1/2"D
305mm x 381mm x 267mm
Capacity: One standard size roll of 8" or 9" wide. (Use only non-perforated towels). One stub roll up to 2 3/4" OD
*600ft roll recommended for best results.
Installation Instruction
Provide an area at specified or desired location. Open cabinet and hold unit on wall surface. Making sure unit is level transfer mounting point locations to wall surface and drill pilot holes. Secure cabinet with proper fasteners per application. Load pap