U6264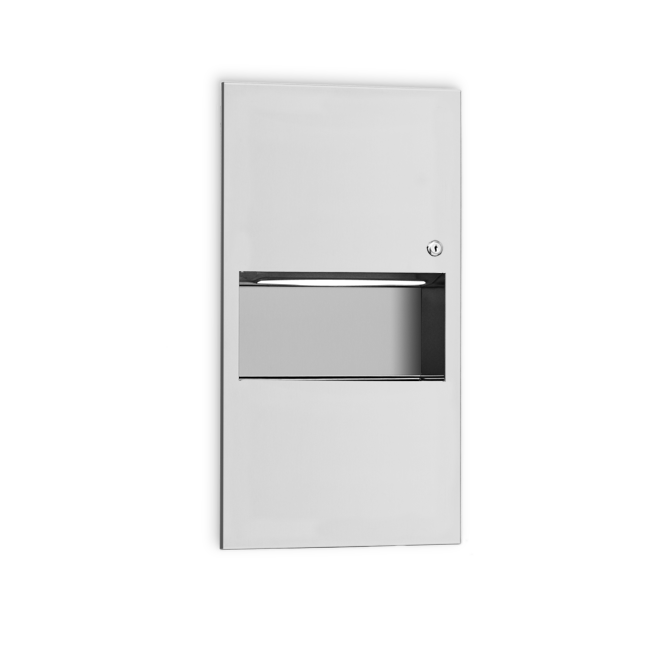 Product Features
Fabricated of #22 gauge stainless steel with a #4 satin finish
Holds 350 c-fold or 475 multifold towels
Waste receptacle has a 2 gallon capacity
Unit features Uni-door construction
Product Specs
Body: Fabricated of #22 ga stainless steel with a #4 satin finish.
Flange: Fabricated of #22 ga stainless steel with #4 satin finish and 1/2" returns to wall. (No miters or welds)
Cabinet Back: Fabricated of stainless steel formed for rigidity with multiple welds to cabinet body.
Uni-Door: Fabricated of #18 ga, one piece stainless steel Uni-Door with #4 satin finish, with 1/2" returns.
Towel Dispenser: Dispensing area has hemmed edges to prevent injury and towel tearing.
Removable Waste: Removable waste hemmed edges and handle for easy removal.
Hinges: Heavy duty, full length, stainless steel piano type hinge.
Lock: Pin tumbler commercial quality keyed like all other AJW cabinets.
Collars: Fabricated of #22 ga #4 satin finish stainless steel sized and finished to match cabinet body.
Overall Size: 14 1/2"W x 26 1/4"H x 4 1/4"D
368mm x 667mm x 108mm
Wall Opening: 12 3/4"W x 24 1/2"H x 4"D
324mm x 622mm x 102mm
U6264-S2: semi-recessed 2" collar, 2"wall open(51mm)
U6264-SM: Full surface mounted collar.
Towel Capacity: 350 c-fold or 475 multifold
Waste Capacity: 2 gallons (.27 cu ft)
Options:
-VL3: Reusable vinyl liner.
Installation Instruction
Coordinate installation with contractor and architect to avoid interference with pipes vents etc. Provide a rough wall opening 12 3/4"W x 24 1/2"H. Wall opening depth will depend on style mounting. Remove waste and install unit in opening. Make sure cabin