U659 Series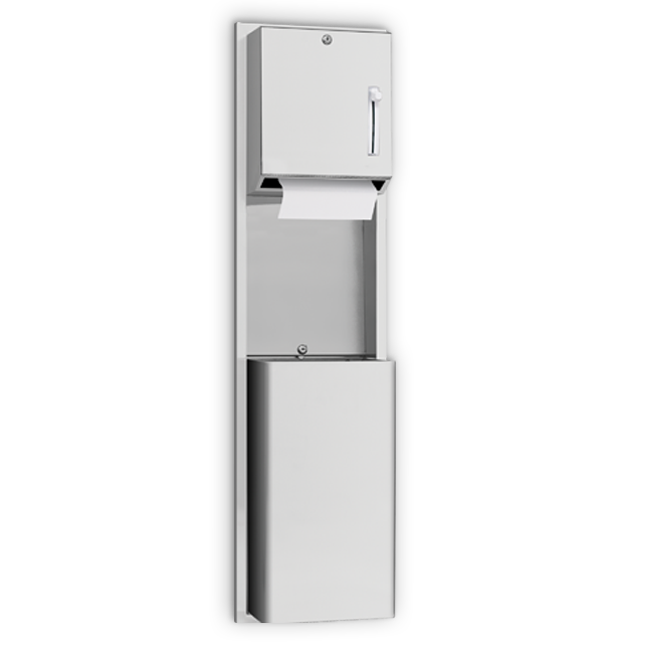 Product Features
Fabricated of #22 gauge stainless steel with a #4 satin finish
Holds one standard size roll up to 8" in diameter
Waste receptacle has a 12 gallon capacity
Lever-operation complies with ADA code
Easily operated with one hand
Product Specs
Body: Fabricated of #22 ga stainless steel with a #4 satin finish.
Flange: Fabricated of #22 ga stainless steel finished to match cabinet with 1/4" returns. (No miters or welds)
Cabinet Back: Fabricated of stainless steel formed for rigidity with multiple welds to cabinet body.
Cabinet Door: Fabricated of #18 ga stainless steel with #4 satin finish, with full length door stop to reduce vandalism
Towel Dispenser: Roll towel mechanism is fabricated of #20 ga steel formed for rigidity. Unit will accommodate one 8" or 9" wide roll with a max O.D. of 7 7/8". Towel length dispensed has three adjustable settings. Lever is activated with one hand and less than 5 lbs of force to activate.
Removable Extended Waste: Fabricated of #22 ga stainless steel #4 satin finish with all leading edges to have a radius. Unit is secured in place by a bottom bracket guide and top lock. Embossed tabs allow liners to be held in place.
Hinge: Full length, heavy duty, stainless steel piano type hinge.
Collars: Fabricated of #22 ga stainless steel, finished to match cabinet. (semi-recessed and surface mounted)
Overall Size: 14 1/4"W x 54"H x 10 5/8"D
362mm x 1372mm 271mm
Wall Opening: 12 3/4"W x 52 1/2"H x 4"D
324mm x 1334mm x 271mm
U659-S2: 2" semi-recessed. collar, 2" wall opening, 51mm
U659-SM: Full surface mounted collar.
Towel Capacity: One standard roll up to 8" wide (non-perforated)
Waste Capacity: 12 gallons (1.60 cu ft)
*Recommend 600ft roll for best results.
Options:
-VL1: Reusable vinyl liner
Installation Instruction
Coordinate installation with architect and contractor to avoid interference with pipes, vents, etc. Provide a rough wall opening 12 3/4"W x 52 1/2"H. Required wall depth, will depend if full or semi-recessing is required. If collar is required, slide coll