U700 Series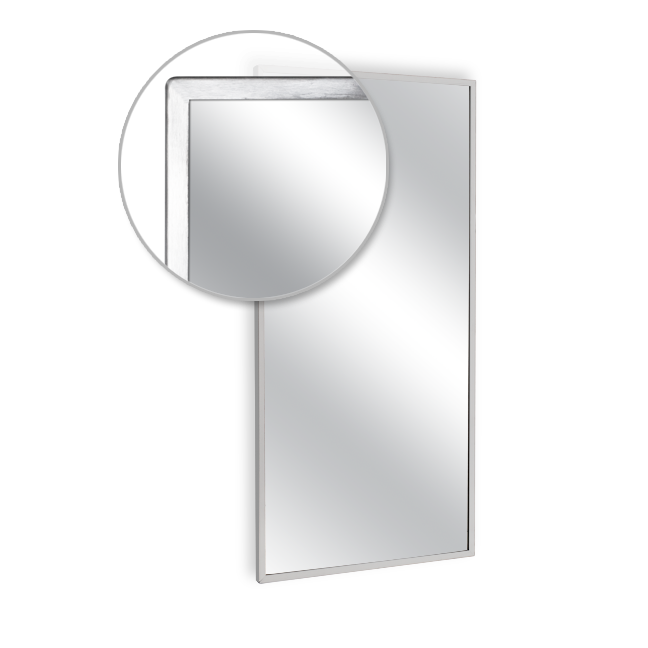 Product Features
Fabricated of #18 gauge stainless steel with #4 satin finish
Frame miters are ground smooth and polished
Multiple reflective surfaces available
Mirror comes with a 15 year warranty against silver spoilage
Product Specs
Frame: Fabricated of #18 ga stainless steel, #4 satin finish. 3/4" x 3/4" frame with welded mitered corners are ground and polished smooth. #22 ga concealed "Z" channel is spot welded to inner perimeter of frame for reinforcement and greater rigidity.
Mirror: 1/4" thick type 1 transparent flat type, class 1 - clear glass mirrors. Mirror is coated with silver and sealed with a uniform electrolytic copper plating, along with two coats of paint for added protection. Mirrors are guaranteed against silver spoilage for a period of 15 years. Mirrors conform to AS™ C1036 and AS™ C1503-R8.
Filler: 3/16" thick full size, shock absorbing, water resistant, non-abrasive polyethylene padding protects all concealed mirror surfaces.
Back: #20 ga pre-plated galvanized steel, with embossed horizontal louver mounting brackets. Embossed theft resistant pressure activated clip lock device, locks mirror in place to wall hangers. Back is secured to frame with concealed Phillips head screws.
Hangers: Fabricated of #20 ga pre-plated steel galvanized steel with mounting points.
Standard Sizes Available (W x H): 16"x24", 16"x20", 16"x30", 18"x24" 18"x30", 18"x36", 20"x60", 24"x30" 24"x36", 24"x42", 24"x48", 24"x60" 24"x72", 18"x60", 24"x60", 18"x72"
Mirrors conform to Federal Specifications DD-M-00411b & DDg- 541D.
Options:
VC: Safety Glass(Vinyl clad)
T: Tempered Glass
LG: Laminated Glass
PM: Plastic Acrylic
8B: #8 Reflective s/s
LX: Polycarbonite
Recommended max size-8B mirrors: 72" x 47 1/2"
Mirrors are always ordered Width x Height
Framed mirrors are fabricated to a tolerance of +/- 1/8".
Installation Instruction
Coordinate installation with architect / contractor for specific mounting location and height for each mirror application. Making sure "I" bracket is level, transfer all mounting point locations to wall surface from drawing. Secure brackets with proper f