U830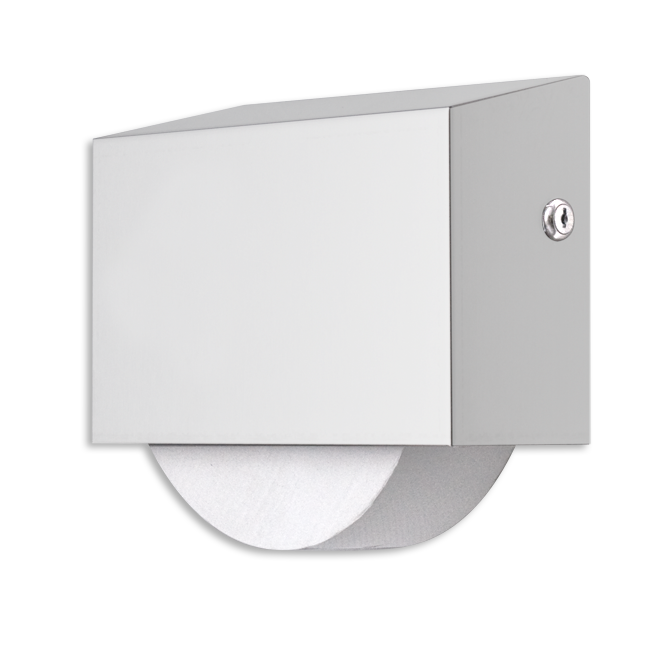 Product Features
Fabricated of #22 gauge stainless steel with a #4 satin finish
Holds one 9" diameter jumbo tissue roll
Secured with pin tumbler lock, keyed like all AJW cabinets
Product Specs
Body: Fabricated of #22 ga stainless steel with a #4 satin finish, with one piece unibody construction. Sloping hood prevents articles such as cigarettes on top of unit that may cause a fire.
Cabinet Back: Fabricated of #22 ga stainless steel formed for rigidity. One piece back is equipped with striker tabs.
Spindles: Unit is equipped with a solid white ABS spindle and a capped stainless steel 1 1/4" diameter spindle. Unit will hold one 9" diameter roll with a core diameter of 1 3/8" - 3 1/4". (Non-control delivery)
Hinges: Heavy duty, stainless steel piano type hinge.
Locks: Pin tumbler, commercial quality keyed like all other AJW cabinets.
Overall Size: 11"W x 7 3/4"H x 4 1/2"D
254mm x 305mm x 108mm
Capacity: One 9" OD (229mm) jumbo tissue roll
Installation Instruction
Provide an area on wall at desired or specified location. Unlock cabinet and place unit on wall making sure cabinet is level. Transfer mounting points to surface and drill pilot holes. Secure unit with proper fasteners per application. Load toilet tissue