UG120-U Series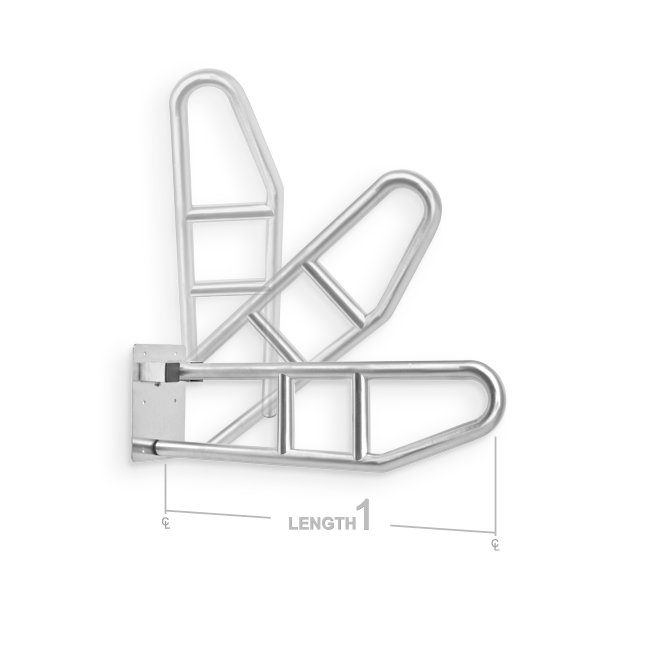 Product Features
1 1/4" bar diameter
Exposed Flange
Custom sizes available upon request
Powder Coating available upon request
Product Specs
Mounting Plate: Fabricated of #11 ga stainless steel, #4 satin finish with 6, 1/4" dia exposed mounting points.
Bar: #18 ga, 1 1/4" diameter, stainless steel with a #4 satin finish. All bends formed by an automatic mandrel bending process which maintains a uniform bar diameter around bends.
Gripping Surface: Standard surface is satin finish. Use suffix X for peened grip. (Anti-slip)
Intermediate Supports: Same material as bar with contour cuts that are heliarc welded.
Pivot Brackets: Dual supports fabricated of #18 ga square stainless steel tube with capped ends.
Tension Control Mechanism: An adjustable clutch to control the amount of tension on the bar required to raise and lower the bar. This prevents bar form falling when in the up-right position.
Check all state and local building codes for proper mounting heights and locations. ADA code specifies 33"-36" above finished floor for maximum mounting height.
When properly mounted, swing-up type bar will sustain a static load of 250 lbs.
Installation Instruction
Installation: Coordinate installation with architect and contractor to avoid interference with toilet, stall doors, etc. Place unit on wall surface making sure unit is level, transfer mounting points and drill pilot holes. Secure unit with proper fastener