UX75 Series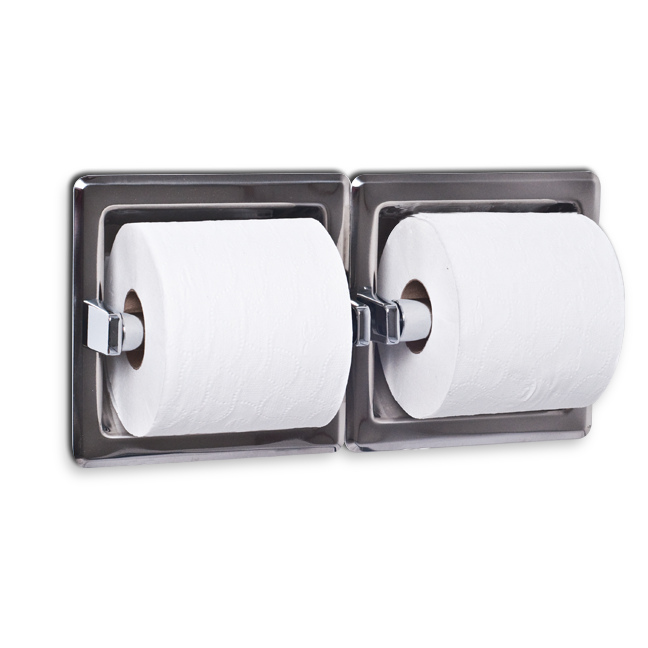 Product Features
Fabricated of #22 gauge stainless steel with a bright polished finish
Holds two standard toilet tissue rolls
Theft resistant spindles are available for this product
Product Specs
Shell and Flange: Drawn one piece construction fabricated of #22 ga stainless steel with a bright finish. Two mounting points allow unit to be secured to mounting clamps or framing in wall opening.
Support Posts: Heavy duty cast Zamac with bright chrome finish to match shell.
Spindle: Spring loaded, chrome plated plastic roller. Optional U007 Theft Resistant Adapter: Prevents spindle from being removed until roll has been depleted.
Collars: #22 ga stainless steel finished to match unit.
Overall Size: 12 5/8"W x 6 1/4"H x 3 9/16"D 321mm x 159mm x 92mm
Wall Opening: 11 3/4"W x 5 1/4"H x 2"D 298mm x 133mm x 51mm
Installation Instruction
Provide a wall opening at desired or specified area and coordinate with architect or contractor to avoid interference with pipes, vents etc. In wall. Secure unit in wall opening with proper fasteners per application. Insert roller into roll core depress one side and install on posts.Toilet Paper Dispensers: All dispensers that are to meet ADA code cannot have any type of controlled delivery. (4.16)