U115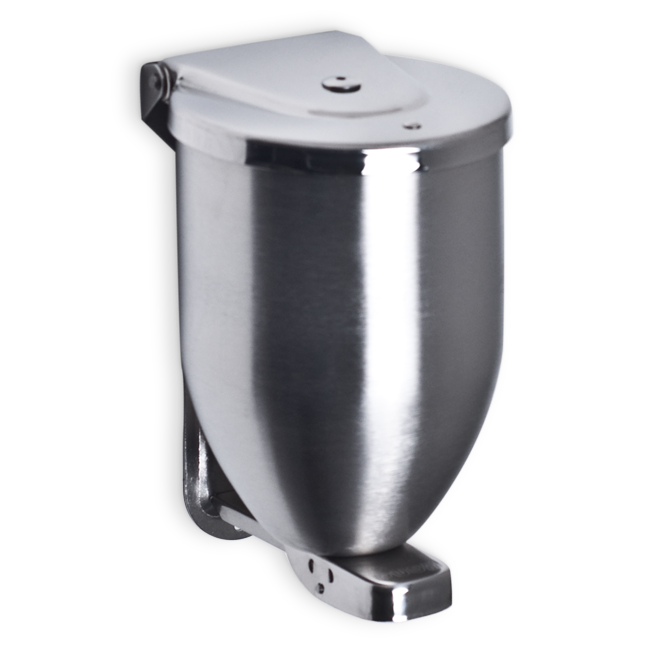 Product Features
Fabricated of #22 gauge stainless steel with a #4 satin finish
Holds 32 oz of powder soap
Product Specs
Tank: Fabricated corrosion resistant stainless steel with a brushed satin finish. Large filler cap (4 3/8" dia. 111mm) is tamper resistant that opens with special key. Large opening allows easy servicing.
Wall Plate: Fabricated of heavy gauge chrome plated steel.
Dispensing Arm: Push knob, spring and discharging mechanism are fabricated of stainless steel. Pre-measured amounts of powder soap are dispensed to prevent waste and is moisture resistant to avoid caking of powder.
Overall Size: 4 1/2"W x 7 1/8"H x 4 5/8"D 114mm x 181mm x 119mm
Capacity: 32 oz powder soap
Installation Instruction
Provide an area on wall surface at desired or specified location. Clip tank to bottom of mounting plate. Place mounting plate on wall surface and transfer mounting points. Drill pilot holes and secure with proper fasteners per application. Secure tank to top of mounting plate by pressing top of dispenser against wall plate and installing hinge pin. Open filler cap and fill with powder soap. Test push bar for proper operation. Secure lid after operation checks out.

*It is not recommended to mount any soap dispenser on mirrors