U124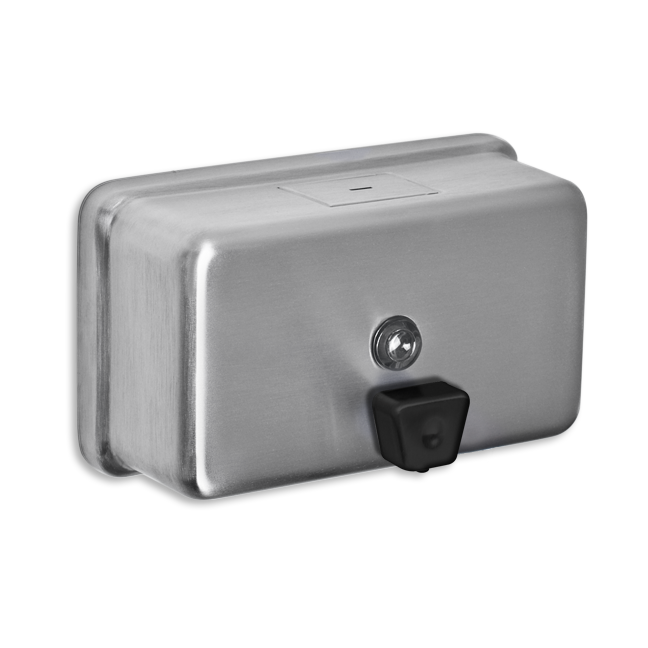 Product Features
Fabricated of #20 gauge stainless steel with #4 satin finish
A refill indicator displays remaining product
Holds 40 fl oz. of liquid soap
Product Specs
Soap Tank: Fabricated of #20 ga stainless steel, #4 satin finish, fully welded one-piece construction.
Valve: All purpose antibacterial soap valve cylinder, black molded plastic push style valve that takes less than 5 lbs of force and one hand to operate complies with barrier free guidelines when mounted at proper height.
Viewer: Clear plastic window allows a constant fluid level check.
Concealed Mounting Plate: Fabricated of heavy gauge stainless steel.
Filler Cap: Fabricated of stainless steel, hinged to allow easy servicing, secured with special key that creates a vandal resistant dispenser.
Overall Size: 8 1/4"W x 4 3/4"H x 3 1/2"D 210mm x 121mm x 127mm (Horizontal Mounting)
Capacity: 40 oz.
Installation Instruction
Provide an area on mounting surface at desired or specified location. Secure concealed mounting plate to wall surface with proper fasteners. Slide dispenser down over mounting plate and secure by means of set screw located inside tank. Fill unit with proper soap. Close lid and secure with special key. Test valve for proper operation.
*It is not recommended to mount any soap dispenser on mirrors
**For best performance, use pre-mixed low concentrate solutions. Dispensers should have periodic maintenance performed to insure the life dispenser. Rinse out globe and valve with warm water to avoid sludge buildup.
Preventative Maintenance: Each dispenser should be flushed out aprx, every 30 days with warm water to prevent valve from clogging with old soap, Abrasive cleaners should not be used when wiping down dispenser.