U136EA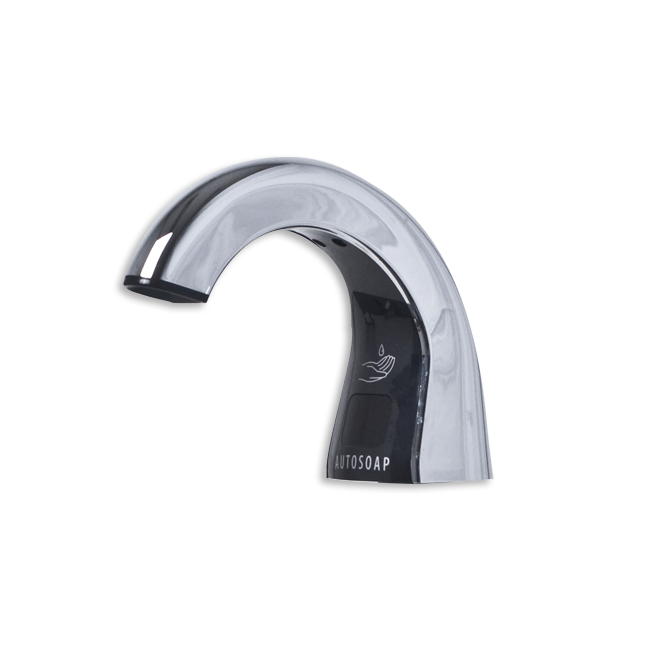 Product Features
Fabricated of highly polished chrome plated ABS material
Holds 54 fl oz. of antibacterial liquid hand soap and lotion
Soap dispenser is vanity mounted
Hands free electric sensor provides easy operation
Product Specs
Spout Assembly: Chrome and black plated ABS spout with automatic dispenser.
Shank Assembly: Black ABS high impact material. Requires a 1" diameter in counter top with a maximum thickness of 2". Optional spacer included if sink rim is 3/4" high or greater,
Electronics: Automatic sensor detects users hand to dispense a pre-determined amount LED light Indicator for low battery and low soap capacity. Four (4) D Alkaline batteries self contained motor assembly under counter. Average battery life 100 refills or 2 years.
Replaceable Containers: Self contained soap refills eliminate cross contamination, spills and lost service keys. Unit is non-refillable.
Capacity: Self contained non-refillable bottle with a capacity of aprx, 2000 hand washes per bottle, included with unit (lotion soap).
Overall Size: 5 1/2"D x 4 1/4"H (above vanity) 140mm x 108mm
Installation Instruction
Provide required opening in vanity or basin per installation detail included with unit. Insert shank through cut out and secure. Connect supply tube from soap container to dispenser unit. Test to ensure proper operation.