U1521EA Series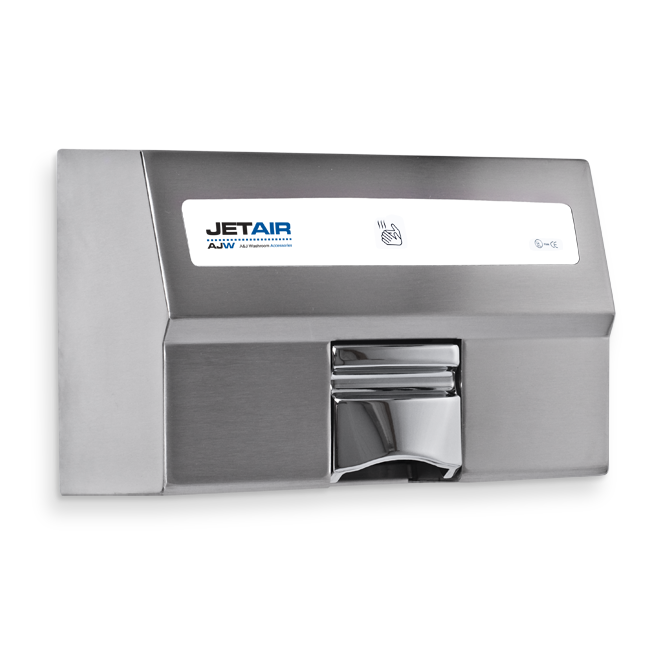 Product Features
Fabricated of #18 gauge stainless steel with a #4 satin finish
Hands free electric sensor provides easy operation
Dryers come with a 5 year limited warranty
Product Specs
Motor: Brushless, 1/8 hp, 3450 RPM capacitor initiated with non-lubricating bearings and thermally protected against over heating. Fan: Dynamically balanced to eliminate vibration & noise.
Heating Element: Dynamically balanced to eliminate vibration &noise. 2300 watt nichrome coil would element on state of the art convective cooling system. Ambient temp produced at nozzle is 70 degrees F.(21 C) Unit is protected by an integral thermal safety circuit breaker.
Timer: Fully enclosed, non-mechanical timer, that automatically turns off when hands are moved away from path of sensor. Electric Eye: Sensor allows a hands free operation. When sensor beam path is disturbed, dryer will automatically turn on. When hands move away from beam, dryer stops.
Cover: Fabricated of #18 ga stainless steel, #4 satin finish, spot welded to form one piece unibody construction. Cover is secured to base with two tamper resistant fasteners. Special key provided to remove cover. All seams polished smooth.
Nozzle: Fixed chrome plated nozzle that can be changed from fixed to 2 position in the field.
Base: One piece #14 ga steel with 3/4" returns to wall surface for maximum strength and rigidity.
Overall Size: 12 5/16"W x 8 1/2"H x 7"D 313mm x 216mm x 178mm
Unit Volts Amps Cycles
U1521EA-120V 110-120 18 60
U1521EA-230V 220-230 10 60
Installation Instruction
Coordinate installation with contractor, architect and licensed electrician. Transfer mounting points to wall surface with supplied templates. Check all code requirements for proper mounting heights. Secure base with proper fasteners for each application. Properly connect power supply to dryer. Test dryer for operation. Secure cover to base with supplied theft resistant fasteners(2).Test dryer again after cover is secured. Unit must be installed by a qualified licensed electrician.